Share With :
eHarmony V Match
Who wins the heavyweight division?
Who wins the heavyweight division?
So, you've narrowed down your selection of preferred dating sites to these two colossal industry leaders. We've put together some of the key pointers listing the pluses and minuses of both sites to help you make your final choice. Let's get to the nub, which is better, eHarmony or Match.com? Without sitting on the fence, there is no straight answer as it depends on what you're looking for and your wants and needs. The two giants, eHarmony and Match.com, are popular, well-marketed, and with millions of members worldwide. In this post, we'll try to help you find the right answer so you can choose what's applicable for you. Well, the title fight between Tyson Fury and Deontay Wilder was a draw, and each of the three judges saw it differently. Is there a clear winner here and does one site offer a knock-out blow? Read on as we take you through round by round.
Most Popular Digital Matchmakers
eHarmony has an estimated 750,000 paid subscribers and 10 million users in the U.S. alone, comprising of professionals such as teachers, nurses, doctors, lawyers, and businessmen. Match.com offers a massive volume of members with about 96 million users since 1993 and has a broader spectrum of users and social classes amongst its members. Both are market leaders in their own right, offering free and paid membership with cool features and benefits to provide to their users. For ultra-serious date searchers, eHarmony is the way to go, and their rates and extensive sign-up process helps deter less serious users from the site. On the other hand, Match.com offers a wide range of search options to find your best match by using the checkboxes and filters, for more flexible and free-flowing matchmaking locally or across the globe.
As one of the longest standing dating sites, eHarmony boasts its coverage to over 150 countries compared to 25 countries for Match. The more critical factor is that both will have an abundant supply of local date suggestions. Match.com gives you more freedom to choose potential dates while eHarmony does the hard-graft for you in narrowing down what should be compatible matches. Male to female proportions of users have a slight difference and the cost per month for eHarmony is $7.95 for an extended membership while Match has an average price of $11.99 per month. Both offer discounted offers from time to time, and we'll keep you posted when they do.
| | | | |
| --- | --- | --- | --- |
| Sites | Users | % of Male Users | % of Female Users |
| eHarmony.com | 10 Million | 49.00% | 51.00% |
| Match.com | 96 Million | 48.00% | 52.00% |
Is eHarmony Best for Me?
When it comes to automated matchmaking, eHarmony is the best way to go, taking online dating to a whole new level. How does eHarmony work? It's based on its much-vaunted algorithm that is as closely guarded as the coca cola recipe. You'll be asked to complete a Personality Questionnaire after registration, and your answers will be the basis of eHarmony algorithm to find your best matches. We highly recommend answering the survey in your day-off and prepare energy-boosting snacks because you'll be dealing with well over a hundred questions!
The questions are generally about your personality, values, hobbies, likes, and dislikes among others. The purpose of answering tons of questions is to match your profile with other users who have close characteristics and personalities with you. Naturally, users of the opposite poles won't be matched, and those with the same feather will be flocked together! eHarmony doesn't subscribe to that old adage that opposites attract. So were the fictional Lady Chatterley to have tried online dating she wouldn't have been matched with Heathcliff on eHarmony, but on Match she could have opted for some contrasting traits, and he would have popped up in the search results. Actually, it's not the best example because both Match and eHarmony, quite rightly, cater for singles rather than the disillusioned and formally attached.
Remember, that once the eHarmony questionnaire has been submitted, you can't go back into it and change it. That's why you need to take time and answer every question honestly for your best interest.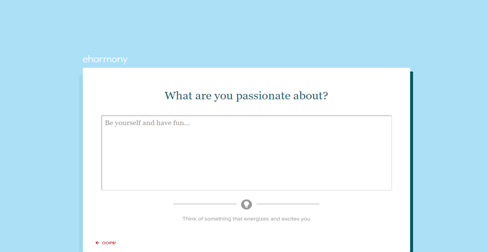 Images Source: https://www.eharmony.com
You won't find any search option in eHarmony because it is an automated matchmaking platform that searches your potential matches based on your answers or results from the personality questionnaire. This can save you from reviewing and reading thousands of profiles. So, the extensive time spent answering the initial questionnaire does mean the hard graft of subsequent searching for ideal matches is done by the site algorithm. eHarmony pitch their site with the slogan 'Step aside fate, it's time science had a go at love'. So, remember, when you are flagging on your 98th question, it seems the closely guarded algorithm really does have a scientific basis to its claimed success. So, while algorithm dating doesn't have a romantic or catchy name, there is a raft of data that suggests it works.
If you are someone who usually goes for 'the wrong type' it makes sense to let eHarmony take that thus far unfruitful date selection process away from you. The matches that will be presented to you have close similarities with your character traits and personality. You're only allowed to contact your daily matches, and you need to wait the next day just to view more profiles if the ones currently presented to you are not interesting enough or don't excite you.
We recommend eHarmony for users who live in big cities and towns because there could be high daily matches for high-populated areas. Small towns and rural areas are inevitably going to provide lower matches than the rival Match.com because of the latter's high membership numbers. In this case, Match is a sensible choice given it allows you the option to select dates yourself from the site. Both Match and eHarmony score highly terms of being fully mobile with a mobile app both available for Android and iPhone users. The apps enable users to enjoy all the array of features on offer by both sites.
Is Match.com Best for Me?
While eHarmony is more on an automated matchmaking platform, Match.com provides a wide variety of search options, allowing users to view millions of single profiles on the site. You can use 'Go Search' to get the most out of Match search option, by sorting potential matches from youngest to oldest, alphabetically listed usernames, location, number of pictures per account, or when the user last logged in. The 'Advanced Search Criteria' is a more in-depth type of search with subcategories such as appearance, and the 'Username Search' allows you to just enter a username on a text box.
The 'Mutual Match' search option finds your matches according to the number and type of traits you're looking for. On the other hand, the 'Reverse Match' find matches based on the number of traits you have that other users are looking for, and 'Community Search' pairs members based on the brands they like or organizations they support. Match.com gives you the freedom to choose your matches depending on your set preference by changing characteristics and traits using checkboxes and filters. Unlike eHarmony with recommended daily matches, Match.com provides unlimited potential matches every day! However, it is entirely up to you to search from the voluminous amount of profiles that can be time-consuming, overwhelming, and daunting for some.

Image Source: https://www.match.com
Carefree or Serious Type?
Because eHarmony focuses its results to your baseline Personality Questionnaire data, it is geared towards finding the best matches with the same qualities and characteristics as you have. This matchmaking strategy promotes compatibility for a long-lasting relationship because it is not based on what features you merely want or are looking for in a person. The process goes deeper than that, and the Company is proud of their patented matchmaking algorithm based on psychology. That's why if you are seeking a serious relationship and fixated on finding your future partner you'll find eHarmony is the best choice. It's targeted and more straightforward.
Match.com offers more power to your searches by giving you flexible search options, so you can specifically filter out the negative qualities and select the positive ones that you're looking for a date. You can always change your mind anytime depending on your mood or intention. With this type of strategy, this dating site is more suitable for those who are looking for a less intense relationship, such as looking for a companion, a friend, or a travel buddy. It is more free-flowing, and your potential matches are not limited just because you have certain qualities others don't have. If you want to establish a serious relationship that blooms into friendship, Match.com is the best choice. Besides, opposite poles attract!
eHarmony
Match
Strong Points
Automated matchmaking
Saves time and effort
Free communication on weekends (once a month for free accounts)
More on serious relationships and marriage
Flexible search options
More freedom and potential matches
Countless profiles
Open to LGBTQ profiles
Free likes, winks, and favorites
More on general dating, friendship, and less intense relationships
Weak Points
Limited number of possible daily matches
Cannot search on your own
Time-consuming, daunting, and overwhelming to browse user profiles
Paid subscribers can contact each other
Best Features Say It All
1. Aesthetics and User Interface
One of the most unique and intuitive dating site interfaces is eHarmony while the interface of Match.com is more engaging. With eHarmony, you feel that you own the online dating journey, having a stunning and minimalistic layout and personalized web pages. It has fewer distractions with limited daily matches, so you can easily stay up to date with whom you last chatted with and the status of every outreach. Match.com looks like a standard online dating site that offers different search options to find other users. It tracks all interactions to see the number of winks, who viewed your profile, who added you to their favorites, and who expressed other forms of interest.
2. Mobile App
The eHarmony App is both available to use for iOS and Android devices. They offer two different apps for straight matches and for homosexual matches called the 'Compatible Partners' app. These are user-friendly apps that provide most of the functionality of the desktop site including registration and sign up, profile set up, potential match reviews, match settings adjustment, account management, and contacting users. On the other hand, Match.com also has a user-friendly app that can be used even by users who are not tech-savvy. Match has a local dating app available for iOS users that are downloadable for free. It is suitable for iPhone, iPod Touch, and iPad with iOS 10.0 or later. In-app purchases are available for the 'Boost' feature and 'Incognito Mode'.
3. Sign-Up Process
When it comes to the registration process, eHarmony can take you about an hour or more to answer the 'Personality Questionnaire' based on the 29 Dimensions of Compatibility matching system, whereas Match.com takes about 15 to 30 minutes. The length of time of the sign-up process can be mentally exhausting in eHarmony, but it's worth all your effort because later on, the system automatically finds your best matches without you having to go through the profiles yourself, saving more time in the long run. With Match.com, you'll have to undergo a step-by-step guide to complete your profile, and your profile needs to be approved within 24 hours before you can use the site, unlike eHarmony.
Are you willing to go through a longer sign-up process that will get you through immediately? Or do you prefer a shorter process? Basically, eHarmony creates a unique baseline data, delivering you the nest matches and the site gives you immediate access after answering the 'Personality Questionnaire'. On the other hand, Match.com asks you to complete the profile sections within 30 minutes and puts your account on hold up to 24 hours for the review and approval of your profile. Both dating sites take longer to sign-up and register than other typical hookup sites, but once you're in, you'll benefit from the best features of both sites.
4. Pricing
The higher rate of eHarmony helps deter less serious users, thus keeping users who really want to find a date and long-term relationship. For those who don't want to spend too much for a dating site, Match.com offers lower rates with many user profiles to choose from based on keyword searches.
eHarmony
Match

Free Membership $0

Basic Plan
$59.95 per month
3-month subscription ($39.95/month)
6-month membership ($29.95/month)
12-month subscription ($19.95/month)

Total Connect Plan
$44.95 per month
3-month subscription ($44.95/month)
6-month subscription ($33.95/month)
12-month subscription ($23.95 per month)

Premier Plan
$41.95 per month

Free Account $0

3-month subscription ($19.99/month)
6-month membership ($16.99/month)
12-month subscription ($15.99/month)

SecureCall (users can chat and call without exchanging personal contact numbers)- $7.95 a month
Book of You (in-depth personality analysis)

Premium Personality Profile (extended version of your profile)-$19.95 a month
eH+ (professional counseling services)- $5000 a year

Boost (puts your profile to top search results)- $3.99
Private Mode (browse profiles without being noticed by other users)- $9.99 a month
5. Quality of Matches
Regarding the quality of matches, eHarmony aims to match your profile for marriage, whereas Match tends to match your profile for a long-term relationship. Match.com matches your profile based on the criteria you're looking for and your site activities while eHarmony matches your profile based on your answers and results to the initial sign-up questions.
For example, if you're looking for blue-eyed and blonde-haired girls who are college graduates, but you're continually browsing profiles of greened-eyed brunettes of various educational backgrounds, Match.com will show you a combination of both. When it comes to the number of matches, eHarmony shows a certain amount of matches per day, while Match.com will handpick your best matches and will also allow users to browse the entire site to access the whole member database. Match offers more freedom with unique algorithm based self-supplied information and the user's behavior on the site.
6. Success Rates
Match.com doesn't give any specific figures on the number of singles who married because of using their dating services. However, they state that they've inspired marriages twice the amount claimed by other dating sites. You'll find many success stories about Match.com online that also make these claims seemingly unbelievable. On the other hand, eHarmony carefully selects matches to help users find their soulmates, and this dating site claims to bring together about 4% of married couples in the US. According to Harris Interactive, over 500 eHarmony members marry every day in the United States while 38% of Match users said they had a relationship that started on the site and lasted longer than a month. Even if you have fewer matches daily, the quality of matches is high. Experts say it has something to do with eHarmony's 29 compatibility features. eHarmony also claims to have the lowest divorce rate of any dating site at 3.86%. It's obviously a commendable statistic that backs up the claimed confidence in its unique matching process. Match.com can counter this, however, and says that of all marriages that are a product of online dating, its site is responsible for a hefty 30%.
While eHarmony seemingly finds the best matches for people who are better suited for marriage, Match.com can also help users find their best matches using the array of search options. Now, your choice depends on your preference. Do you want to just sit back and relax while your best matches are sent to your inbox? Or, do you prefer the challenge and thrill of searching through a wide array of fantastic features?
Final Thought
Both eHarmony and Match are excellent in their own matchmaking strategies. If you're a very busy person who just wants to receive updates on your inbox and is looking for a serious relationship that will eventually lead to marriage, eHarmony is recommended for you. If you're going to collect and select, establish an initial connection built on friendship, prefer more options, and enjoy the freedom to search according to your preferences, Match.com is the best for you.