Share With :
OurTime Login Troubleshooting Tips – 6 Essential Steps For Senior Technophobes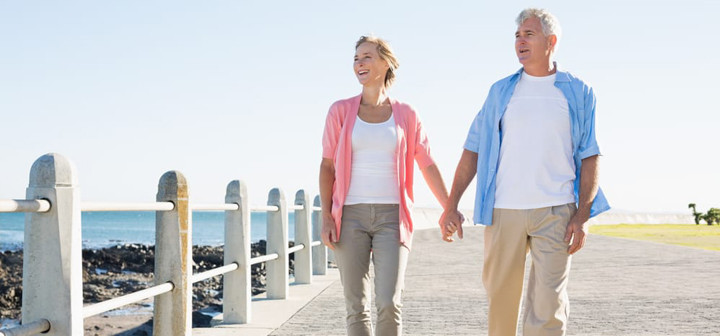 In this article we cover the most common OurTime login and OurTime logout problems. We have provided some helpful troubleshooting tips for the most common login issues.
Many seniors would love to try online dating but are deterred by fear or unfamiliarity with the simple steps necessary for the login and logout process. Many dating sites assume that everyone has a reasonable level of computer knowledge and that's a false assumption. This article caters to the many people who didn't grow up using online dating sites as a means of meeting people but, nonetheless, would love to try it in later life.
OurTime is probably the most popular and user-friendly over 50's dating site and caters to singles up to any age. OurTime login is generally an easy process but, nonetheless, when problems arise they can be slightly daunting to anyone who feels a bit computer-phobic. Computers are a bit like cars, they are fine when they are functioning well but frustrating when gremlins crop up.
The first thing you need to do is to sign-up to OurTime and you can follow our step by step guide HERE. Once you have completed the sign-up, you can use this article if problems arise with the OurTime login and logout of the site.
Whilst, there are several good senior dating sites. OurTime is the most popular and a good starting point for seniors new to online dating. It's an intuitive and user-friendly online platform and owned by IAC who also own Match.com
Most Common OurTime Login Issues
Invalid Email or Password
If you get this error message for your OurTime login, double check your entries to ensure you're entering the right username and password for your OurTime account.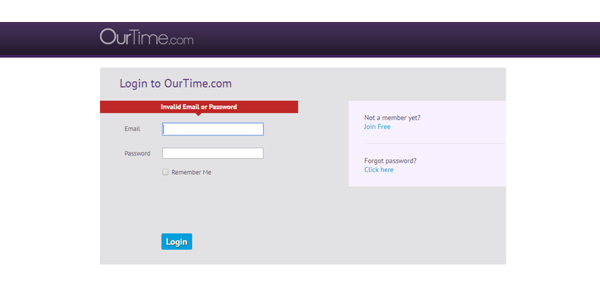 Step #1: Click 'Click here' below 'Forgot password?' to recover your account.
Step #2: Enter your email address and the captcha code. Never mind if the letter is underlined or not. Just make sure to enter uppercase letters if the letters on the picture are in uppercase. Check the screenshot below.
Step #3: Click continue. You need to open your email and check the recovery link so you can create a new password. Check your spam folder if you can't find the recovery link on your inbox.
Can't Access OurTime
One of the most common OurTime login issues is not able to access the site. If OurTime is up and running or there's no server issue, but you cannot access the page, you can try one of the following solutions:
Reason #1: Due to Browser Related Problems
Press CTRL + F5 keys (on your keyboard) at the same time on your favorite browser (Chrome, Firefox, Explorer, etc.) to force a full website refresh.
Also, you can clear the cache and cookies on your browser to ensure that you've got the most recent version of the OurTime web page. Here's how:
In Google Chrome
Step #1: On your laptop or desktop computer, open Chrome.
Step #2: Click 'More' or the three-bullet icon at the top right of the page.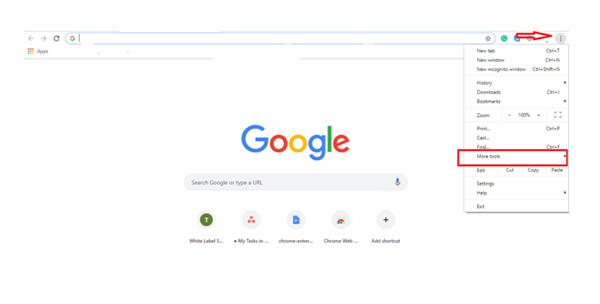 Step #3: Select 'More tools' and then select 'Clear browsing data'.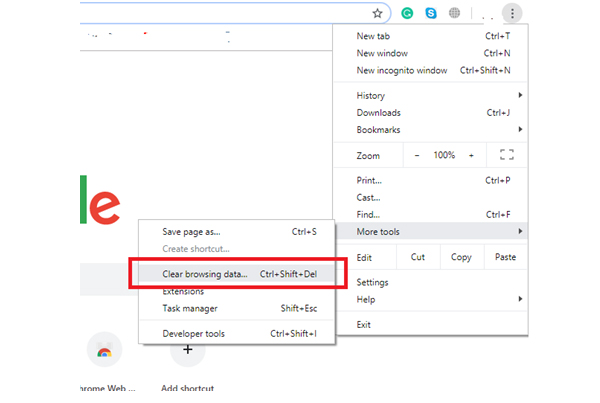 Step #4: Set a time range. If you want to delete everything, choose 'All time'.
Step #5: Check the boxes next to 'Cookies and other site data' and 'Cached images and files'.
Step #6: Next, click 'Clear data'.
If you're using other browsers, like Firefox and Explorer, check their support site for instructions.Set a time range. If you want to delete everything, choose 'All time'.
Check the boxes next to 'Cookies and other site data' and 'Cached images and files'.
Next, click 'Clear data'.
If you're using other browsers, like Firefox and Explorer, check their support site for instructions.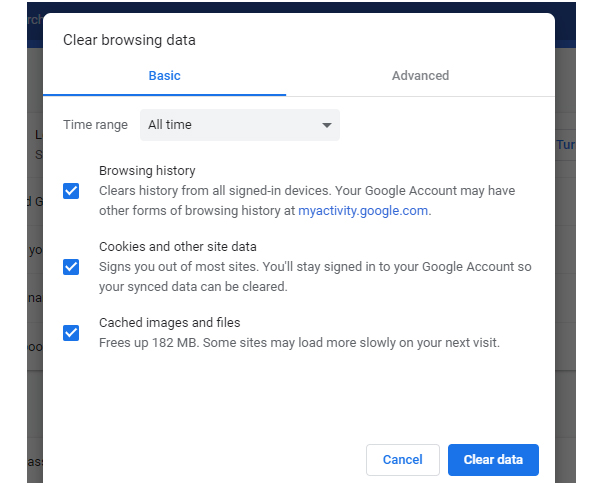 Reason #2: DNS Problems
A Domain Name System or DNS enables a site IP address (e.g., 192.168.x.x) to be easily identified with words (such as OurTime.com). It's like a phone book for websites, usually provided by your internet service provider or ISP.
You can clear your DNS cache to grab the most recent ISP cache. For Windows, right-click on Start. Next, choose, the 'Command Prompt', and type "ipconfig or flushdns" and press enter).
Service Unavailable
If you get the error message 'Service Unavailable', this is a problem with the side of OurTime. But, make sure to check your internet connection by try opening other sites. All you have to do is to try logging or creating an account later, say, after 30 minutes or an hour.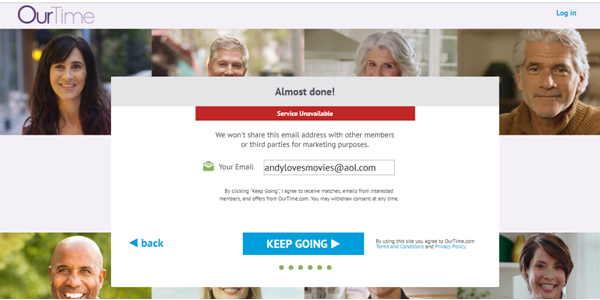 Online Safety Tips When Using Public Computers for Using OurTime and other dating sites
Whether you're using your own internet-capable device – or desktop computers found in public libraries and internet cafés, there are a number of risks if you don't take safety precautions. The ill-intentioned can gain access to your online activities if you're using an outside or unsecured wireless network.
Here are some helpful online safety tips when using public computers and WiFi spots:
● Be wary about people who are viewing your screen or 'shoulder surfing'.
● Wherever possible, only use a well-known, commercial hotspot provider.
● Before using a public WiFi, ensure you have an updated and effective firewall and antivirus or running.
● Never leave your laptop computer, tablet, or smartphone unattended.
● When using an internet café or library public service to access any dating service don't click 'remember password' for your OurTime login.
● You can use a privacy filter to effectively block the view of your screen against people who are sitting on either side of you.
● If you want to sign-up for a premium dating plan, do it at home and using your device. Avoid engaging in financial transactions in public because your personal and financial information, like credit card numbers, might be revealed and used in fraudulent activities.
● Once you're done, to ensure you are fully logged out of OurTime make sure to delete all files and cache and cookies by clearing your browsing history.
● To be ultra-safe change the password that you've used in a public computer immediately once you get back home.
● We advise using a unique separate email and password for all online dating activities.
Conclusion
Seniors are confronted with a lot of computer challenges such as OurTime login and OurTime logout issues. By following the above steps, you can resolve basic troubleshooting problems. If you need further assistance, feel free to contact OurTime Customer Support or a dating profile professional here.