Share With :
OurTime Step by Step Sign-up Guide
We're living in the digital age, and seniors can use the internet to their advantage by finding a friend or partner via online dating. In fact, it's becoming increasingly difficult to avoid using the internet with banks and governments pushing people towards their online services. The younger generation have grown up with online dating, however, many of the 50+ age group still have some issues or fears with regard to using the technology.
That's a pity as some internet services such as online dating sites can lead to happiness rather than headaches. The best place to find seniors who are willing to date and establish a new relationship is via a site specifically catering for senior singles, such as OurTime.com or similar sites.
We have focused on OurTime as it is the largest senior dating site and probably the most user-friendly as well. It's also owned by the Match.com group so it's long established and comes with a credible reputation. In this article we walk you through the sign up process. Signing-up really is very straightforward but you'll also want to make your online dating profile stand-out. We cover some essential tips to give your dating efforts every chance of success.
What Is OurTime.com?
OurTime.com is a community for seniors, catering to all types of relationships. Whether you're a man seeking for women, or a man seeking for men, or vice versa. OurTime is a great place to find seniors who are interested in date and find love.
OurTime.com caters to seniors, aged 50 years old and beyond to find and meet new friends, and eventually become good lovers. Aging gracefully is a thing of the past. It's time to step up to the next level and follow what your hearts and minds desire. While we are passionate to pursue our lifelong dreams, like woodwork, poetry or writing a book, gardening, or collecting unique items, we are still emotional beings who need friendship, love and attention.
Senior Dating Doubts and Concerns
You might perceive that you're too old to date, but there's no age barrier in dating and love. Senior years are potentially the best time to take love and romance to the greatest heights. With children having flown the nest and generally more time to explore new or existing hobbies, it makes sense to find someone to share the increased freedom and opportunities.
It's increasingly common to see people in their 70's and older looking for friendship and romance on various online dating sites such as OurTime and SilverSingles. Doubtless many more in this age bracket would also like to try online dating but have reservations about safety and using the technology. It's sensible to be cautious but with common sense online dating is very safe. We cover that in our article on Online Safety too.
Online dating safety aside, you might have a lot of practical questions in mind right now, such as 'How can I write an excellent dating profile?' or 'Am I ready to date and love again?' You might have concerns about using the computer or your smartphone because you're not tech-savvy as young people do. Well, don't stress because we have everything covered!
Right, with some useful tips to create a great profile, It's now time to start your online dating journey by creating a dating profile now. Follow this link so you can get a free dating profile service, and follow the guide below to help you create a great OurTime.com dating profile.
Step-by-step Guide to Creating an OurTime Dating Profile
Step #1: Choose Your Gender and Gender Preference
OurTime.com is open for any type of relationship, catering to all people aged the 50s and above, either finding heterosexual or homosexual relationship. This dating site focuses on the specific desires and interests of what we call the 'seniors'.
Once you're in the sign-up page of OurTime (https://www.ourtime.com/v3/signup), you'll be asked to choose your gender and gender preference. You can choose from the following options:
● I'm a man seeking women.
● I'm a woman seeking men.
● I'm a man seeking men.
● I'm a woman seeking women.
Click 'Search Now' to proceed to the next page.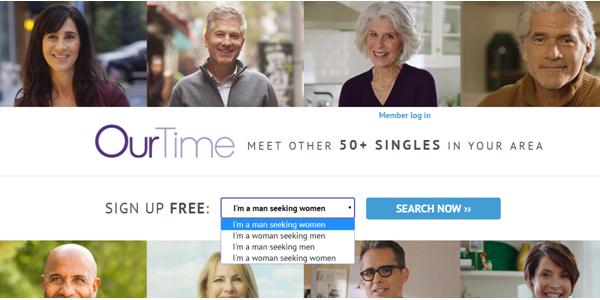 Step #2: Tell Us About Yourself: Country
Choose your country, and click 'Keep Going' to go to the next page.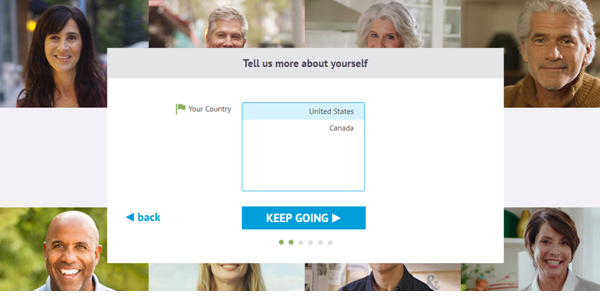 Step #2: Tell Us About Yourself: Location
Enter your zip code or postcode. Click 'Keep Going' to go to the next page.
Step #3: Almost Done: Create Your Username and Password
You can use your first name or not your real name. You can use letters, apostrophes, and hyphens in your username. Make sure to create an easy-to-remember username. One tip is to create a short phrase attached with your name, such as AndyLovesMovies. Keep your username between 2 to 16 characters only, otherwise, you'll get an error message.
When creating a password, it must be between 4 to 16 characters long. Your password should be strong, a combination of letters and numbers. Make sure it is easy to remember. Also, take note if you use uppercase or 'caps lock'. Don't use the same password you use for your personal or other important accounts, like your email or social media accounts.
After you created your username and password, click 'Keep Going' to continue.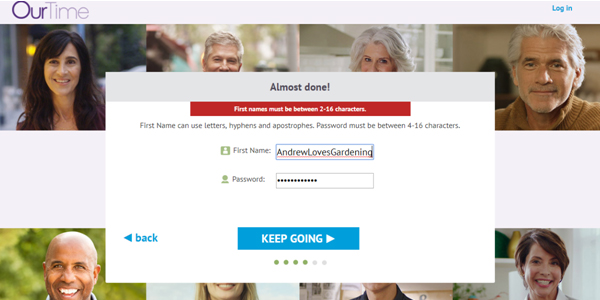 Step #5: Tell Us About Yourself: Enter Your Birth Date
Enter your date of birth following this order: Month, Day, and Year. Click 'Keep Going' to proceed to the next page.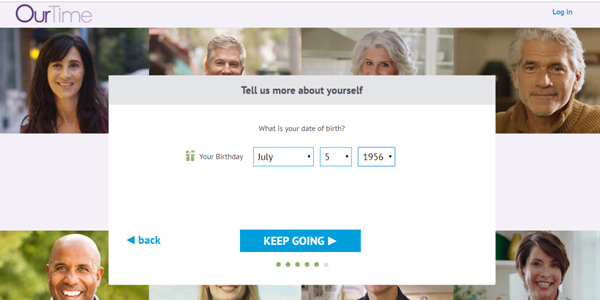 Step #6: Tell Us About Yourself: Enter Your Email Address
While OurTime won't share your email address to other users or third parties, we highly recommend using a different or separate email address to create your dating profile.
Remember that, by clicking the box 'Keep Going', you agree to receive emails from interested users, matches, and offers from OurTime.com. If you wish to withdraw your consent, you may contact OurTime any time.
Congratulations! You have just created your OutTime.com dating profile. You're now ready to find your best match or senior date!
Conclusion
Indeed, joining OurTime.com is so easy. Just follow the above steps and you'll create your account in ten minutes or less. When it comes to creating a dating profile, it's crucial to be true to yourself, and write an easy-to-understand, specific, unique, and interesting profile. Avoid cliches or being too generic. Having a great senior dating profile will make you stand out from the rest, helping you find your soulmate.