Share With :
How To Write a Match.com Profile That Appeals to Women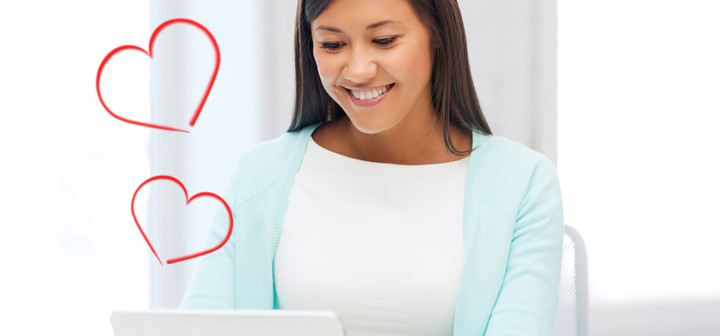 Match.com is one of the most trusted and reputable dating sites today. If you want to attract more women, creating an interesting profile should be your utmost priority. While you want to write a comprehensive profile, it doesn't necessarily mean that it contains all the finest details about yourself. In that way, you still surprise her with your outstanding and unique qualities every time.
What Makes a Great Dating Profile For Match.com
But what makes a good dating profile? Your profile is like a summary of yourself and what you can offer to the dating world. It outlines your best qualities to attract women and impress your best matches. A good dating profile increases your chance of getting a wink, smile, or a reply from your potential matches.
Here are the characteristics of a good dating profile:
● Unique: A generic profile won't say so much about you.
● Genuine: Every tiny detail should reflect your real character and personality.
● Complete: Most people looking for serious dates or relationships prefer to initiate communication to members with complete profile.
● Included Profile Photo: If you're serious about finding a real date or your true love online, it is a must to add a profile photo.
● Appealing: Sharing a quote or life principle, or anything unique and interesting about you catches women's attention.
Tips and Tricks When Creating a Great Dating Profile
1. Just give a snapshot of yourself in your profile. Tell who you are and the relationship you're seeking in simple, clear, and understandable terms. Describe your positive character traits. Are you loyal? Outgoing? Affectionate? Funny? You can choose at least 3 to 4 adjective words that best describe yourself. You can always ask your family or friends to describe you to get an idea of what people think and what they like most about you.
2. Don't describe your job in detail. Your profile is not a resume and bragging how much you earn, or your company position doesn't do any good. While some women may find these details valuable, most people care less about them. It's best to tell the things you're passionate about, like playing musical instruments, rescuing pets, helping others, or sports.
3. Describe who you want to date in your profile. But don't sound overly specific. Online dating is entirely different from online shopping, so avoid creating a list of the ideal qualities you want for your future partner. Instead, focus on character that best resonates with like-minded people. Focusing on characteristics may sound rigid, superficial, or overly picky, which are not attractive qualities!
4. Avoid generic words. For instance, you if say you love traveling, be specific and describe what type of travel adventure you prefer, like nature travel, cruise, visiting pilgrimage or religious sites, or beautiful beaches in the world. Don't assume that other users will know where you're into.
5. Avoid any form of negativity in your profile. Leave those details behind and instead talk about them when you're already comfortable taking with the person.
Signup now for a FREE DATING PROFILE by following this link and follow the step-by-step guide below to help you create a new Match.com profile.
Step-by-Step Guide When Creating a Match.com Profile
Step #1: Fill Up the Basic Info Page
Once you enter Match.com on your browser, you'll come up with the first page where you need to fill up basic information to continue. Select your gender and your preferred partner's gender. Match.com is smart enough to include an age range on this basic info page to give you more options, regardless if you want to date younger or older singles. We highly recommend choosing a wider age range to get more potential matches. Finally, select the country you live in and the zip or postal code.
Step #2: Create Your Email Address and Password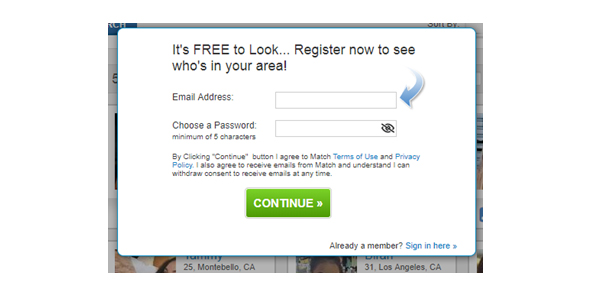 Now it's time to register by entering your email address and password. We highly recommend using a separate email address intended for online dating. Don't use your work or personal email to make sure you'll not be overwhelmed with emails from different dating sites. When creating a password at Match.com, you can create a minimum of 55 characters. Don't forget to click the 'Continue' button to agree to the Privacy Policy and Terms of Use of Match.
Step #3: Fill Up More Basic Information
In this section, enter your first name, birth date, country, and zip or postal code.
Step #4: Welcome Page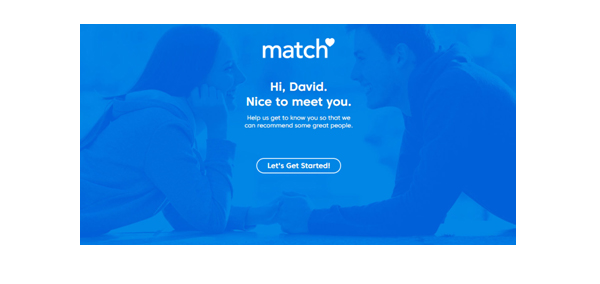 After you filled the basic info pages, you'll come up with this welcome page. Click the 'Let's Get Started' button to continue.
Step #5: Select Your Height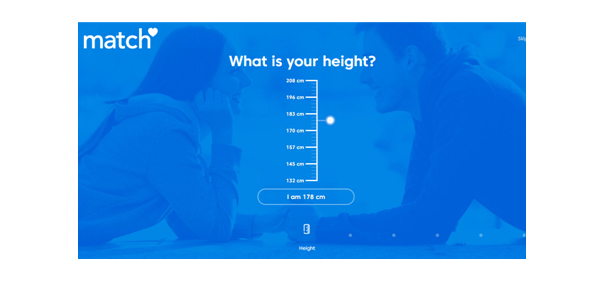 Select your height by dragging the white round button upward or downward and choose your height. You'll see a 'Skip' button on the right upper corner of the page if you want to skip this section. However, we highly recommend going through this section to create a complete profile.
Step #6: Describe Your Body Type
In this section, you're asked to describe your body type. You can choose from slender, average, athletic or toned, or heavyset. This section is your best chance to flaunt if you have a good body type, like an athlectic body type, and Match.com will help you find a sexy, single woman like you!
Step #7: Select Your Relationship Status
This question aims to determine your relationship status. You can select from the following: never married, currently separated, divorced, or widow or widower. Make sure to choose the appropriate choice based on your real relationship status at the moment to avoid issues in the future.
Step #8: Indicate If You Have Children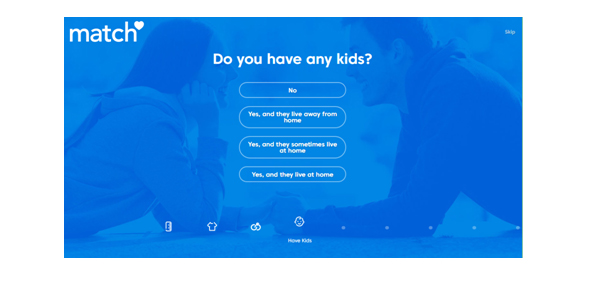 Do you have any children? If you want to attract women, you have to answer this section truthfully. While this topic is not relevant for some women, most single women love honest men who are proud fathers. You can choose from the following: 'No,' 'Yes, and they live away from home,' 'Yes, and they sometimes live at home,' or 'Yes, and they live at home.'
Step #9: Tell If You Want Children or Not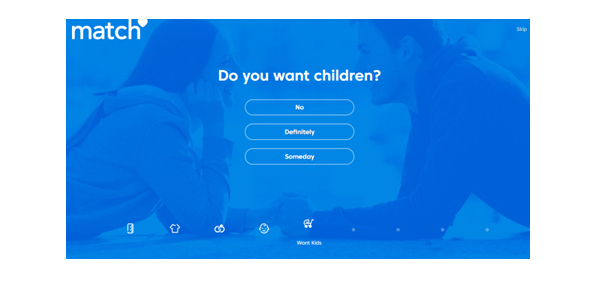 Women want to know if you want children or to become a father someday. Many women want to become mothers eventually and to have a complete and happy family. A woman can gauge a man's seriousness looking for a future partner through his answer to this question. Younger men may like the idea of having children someday as compared to older men who are serious in finding a lifetime partner. Think about the impacts of your answer before you make a choice.
Step #10: Indicate Your Educational Level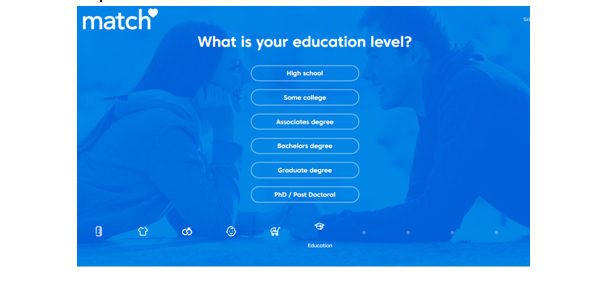 Indicate your educational level by choosing from the following: High School, Some College, Associates Degree, Bachelor's Degree, Graduate Degree, and PhD or Post Doctoral Degree. While some women don't care about your educational background, many still admire men who are proud of their educational attainment. Answering this question will also help Match.com find your best matches based on your answer here.
Step #11: Tell If You Smoke or Not
Select 'No' if you don't smoke. If you're a smoker, you can choose from three different choices, including occasional, daily, or you're trying to quit the habit. Women generally prefer men who don't smoke, but of course, you should still answer this question truthfully.
Step #12: Tell If You Drink or Not
Choose if you're not a drinker, if you're a social drinker, or if you moderately or regularly drink. You might just find your drinking buddy at Match.com!
Step #13: Choose Your Ethnicity
Choose your ethnicity with the following choices: White or Caucasian, Black or African Descent, Latino or Hispanic, Asian, Native American, Middle Eastern, Pacific Islander, East Indian, or Other. Click 'Save & Continue' button. You can skip this part if you're not comfortable answering it.
Step #14: Tell Your Religion
Choose your religion from the following choices: Christian/Other, Christian/Catholic, Spiritual but not religious, Christian/Protestant/, Agnostic, or Atheist. You can also choose from more options, including Muslim/Islam, Christian / LDS, Jewish, Hindu, Buddhist/Taoist, Adventist, or Other.
Step #15: State Your Salary Range
You can choose your appropriate salary range starting from less than $25,000 up to $150,000 annual salary. You can always skip this question if you're not comfortable answering it.
Step #16: Share Your Interests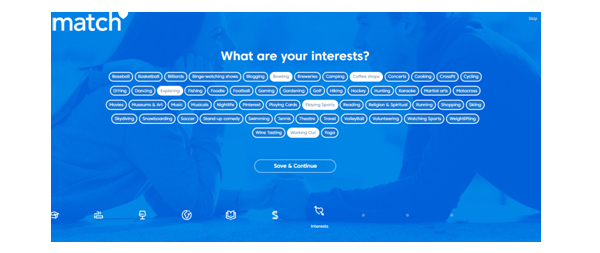 You're allowed to choose at least five interests that best describes your lifestyle and activities. Whether you're a nature lover, sports fanatic, or home buddy, you can choose from different interests, from cycling, basketball, skiing, to weightlifting. You'll also find movies, gaming, reading, gardening, travel, theater, blogging, and many more. Hit the 'Save & Continue' when you're done.
Step #17: Tell What You're Looking For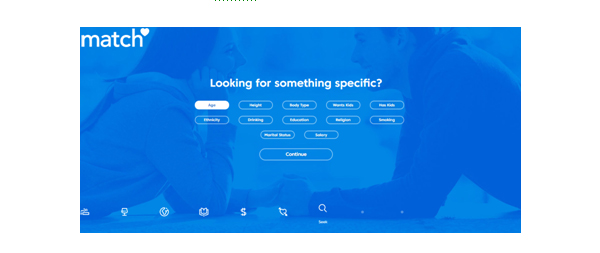 Tell what you're looking for in a future date or partner in terms of age, body type, height, has or wants kids, ethnicity, religion, smoking, drinking, education, salary, and marital status. Match.com makes matchmaking algorithm a lot easier using theses parameters based on the answer of Match members.
Now it makes sense completing your profile to increase your chances of being selected by as many single women as possible. It will only take 5 to 10 minutes to answer the advanced info questions. In that way, you can find your best match easily and quickly.
Step #18: Write a Short Essay About Yourself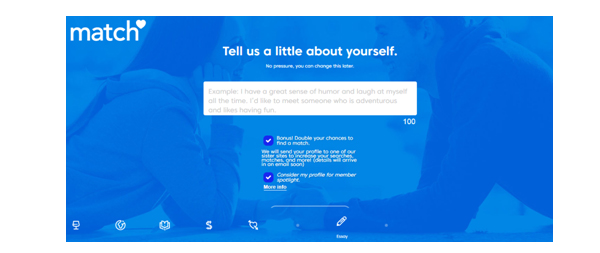 The final step is to tell something about yourself in a short essay form. To capture the eyes of single ladies in your local area and around the world, make it short and sweet but specific to avoid looking like a generic description. Hit 'Save & Continue' to save this part. You can make changes later on if you wish. Your profile will be sent to the sister sites of Match.com to double your chances of getting your best matches right away.
Step #19: Upload Your Profile Photo
According to Match.com, dating profiles with profile photos get more views up to 20 times than those who are skipping this part or not uploading one. You can directly upload photos saved on your computer, import from your Facebook account, or simply dropping an image file into the box. Match ensures that your uploaded photos are not shared with Facebook or your Facebook friends.
Here are some tips when choosing a profile photo to upload:
● It's best to have a white or plain background with a clear headshot.
● Upload a solo photo. Don't upload a photo with other people or children with you.
● Don't wear hat or any head accessories so other users can really see your overall look without any distractions.
● Upload your latest photo (at least 6 months from the current date).
● Don't upload a sad photo or a photo with your ex. As much as possible, no selfie photos are allowed. If you have professionally-taken photos, much better. Also, avoid nude or photo of you not wearing any shirt. Match.com is not a nudity dating site, so you don't have to expose your abs.
Step #20: Know What to Expect as a New Member
As a new member of Match.com, you can chat with local singles, send and receive messages, and see the members who viewed your profile. Click 'Continue' and you're already set!
You'll see the page where you can choose from standard and premium plans. If you're not ready to subscribe yet, you can explore the site by clicking menu options, like checking your potential matches.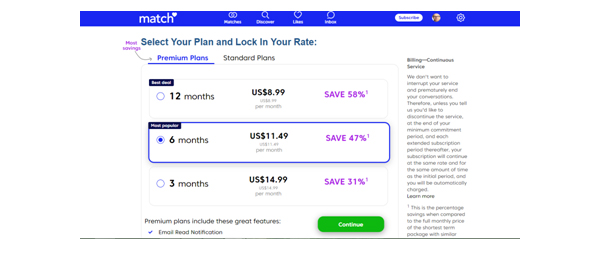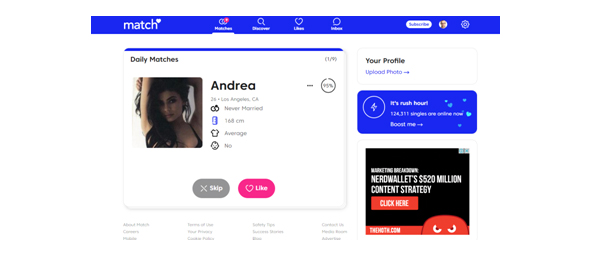 Congratulations! Now, you're already set to explore your Match.com dating profile. Take advantage of the free version to know more about the site and find out if it's best for you. Check our comprehensive Match.com review here. If you don't have time to create an interesting Match.com dating profile, you can find professional profile services to help you, so follow this link to learn more.