Share With :
AdultFriendFinder Login & Profile Writing Guide – 10 Top Tips For Men
Few dates from AdultFriendFinder? We've developed an AdultFriendFinder login, sign-up and profile writing guide to help you get more dates. Included in the guide are Adultfriendfinder login troubleshooting solutions and actionable profile writing tips to maximize your chances of dates.
We take you through the AdultFriendFinder profile writing section and the complete sign-up process in our step by step guide to ensure your profile stands out from the crowd. Given the gender imbalance between men and women on AFF (approximately 80/20 in favor of men), a basic or lazy profile isn't going to cut it.
From AdultFriendFinder login to completion of a stand out from the crowd profile, we've covered it in this guide. We recommend that you SIGN-UP FOR FREE with our link as we walk you through, step by step to creating an outstanding profile.
Introduction – Why AdultFriendFinder and our guide gives you the best chance of casual hookups
AdultFriendFinder.com is a well-established adult dating site, attracting a massive number of singles who are looking for casual hookups and dates both online and in-person. It's one of the online dating sites with the largest member bases. AdultFriendFinder makes making friends with adults for no-strings relationships a lot easier.
It's a heaven for those who are looking for a good time because of unfiltered match feed, explicit photos, and stimulating calls-to-action. It offers all types of sex you can imagine. See our AdultFriendFinder full review for full details of all the features and pros and cons
If you're open-minded and you want to date and meet single women, or to have friends with benefits, AdultFriendFinder is your best choice not least because it's a numbers game. The more female members in your locality the better chance you have of getting hookups.
There are other sites that look slick with heavy marketing and appealing sexy images but ultimately if they don't have enough genuine members you are going to struggle to get dates. Some, to be frank, are complete scams and unscrupulously take money from subscribers in the knowledge there is next to no chance of getting genuine matches and dates.
In every casual dating site (aside from the lesbian dating niche) there is always an imbalance in the male /female ration in favor of men. It's estimated the AdultFriendFinder ratio is about 80% men and 20% women. So, firstly guys need to choose a site with a large membership and, secondly, ensure their AdultFriendFinder profile stands out from the crowd.
The site has 80m members worldwide. I'd heed a bit of caution with that figure from the site as not all will be active. Nonetheless, it is by a massive margin the largest casual dating site and 67% of its traffic comes from the U.S. and over 30m site visits a month according to SimilarWeb. So AdultFriendFinder meets the membership base numbers criterion and, if you add a compelling profile, then dates should follow.
It's important to remember that even if you have a highly appealing profile you will still need to make the effort to message women. The aim is to get a reply after they check your profile out. In short, it is the site that will, especially if you follow our tips in this guide, give you the best chance of finding regular hookups, quick sexual encounters, and literally offers anything related to sex between consenting partners.
While AdultFriendFinder focuses on casual hookups, there's not much difference when you're creating an AdultFriendFinder profile from other sites. Learn more about writing a great AdultFriendFinder profile by continue reading below.
HOW TO MAKE YOUR ADULTFRIENDFINDER PROFILE APPEAL TO WOMEN
Your profile is like a summary of yourself and what you can offer to the dating world. It outlines your best qualities to attract women and impress your best matches. A good dating profile increases your chance of getting a wink, smile, or a reply from your potential matches. So don't be too explicit and come across like an adultfiendfinder. Coming across like a laid-back cool friend rather than a sex-starved desperate fiend will help you get more dates.
Make your profile more interesting to women by highlighting your unique qualities without being too boastful. Women love men who are confident but not overconfident. Learn how to make your AdultFriendFinder.com profile stand out from the crowd with the following tips and tricks:
1. After Adultfriendfinder Login Upload a Great Profile Photo
It's vital to make an effort uploading a fantastic photo that stands out from the rest. Use high-quality images that show how much you value yourself and your lifestyle. A woman can tell if you're serious about dating or you're just playing around. So if you're serious, make an effort as evidenced on uploading an appealing and decent photo without a pile of dishes or washing behind you.
Here are other tips and tricks when uploading a profile photo:
● Don't include a photo with your motorcycle or car behind you. While women also love cars, remember that you're trying to attract women, not another man. Instead, include the things you love to do besides driving, such as wearing headphones around your neck if you're into music or a camera in your hand if you love photography.
● You might see a lot of selfies, but professionally-taken photos are preferred with a smiling headshot at a bright or near colorful background. It's also best to have a white or plain background with a clear headshot if you want a more professional or like-minded look.
● Upload a solo photo. Don't upload a photo with other people or children with you.
● Don't wear a hat or any head accessories so other users can really see your overall look without any distractions.
● Upload your latest photo (at least 6 months from the current date).
● Don't upload a sad photo or a photo with your ex. As much as possible, no selfie photos are allowed. If you have professionally-taken photos, much better. Also, avoid nude or photo of you not wearing any shirt. Match.com is not a nudity dating site, so you don't have to expose your abs.
● Women are attracted to men who wear red, a color of true love and passion.
2. Choose a Creative Username
Your username is your brand so it must showcase your interests and your lifestyle. It should be descriptive and easy to remember. Choose a positive, creative, or funny username to attract women's attention, such as DavidLovesMovies or JohnLovesSports. Avoid including numbers in your username as well as text talks, such as LoveMeNow or Forever2gether.
3. Create an Eye-Catching Headline
Your dating profile headline should express your individuality and creativity. Here are some examples of interesting headlines:
● My sexiest body part…
● More fun and exciting than your ex…
● One thing I've never shared with anyone…
● Free 30-day trial
● Never felt this young…
● I think we need a bigger boat…
● Finding a cruise buddy…
● Fifty Shades of Grey without pain…
4. Check Your Spelling and Grammar
Women also gauge the serious intentions of mean with how you write your dating profile. Make sure to use the correct spelling and grammar to express how decent, serious, and professional you are to find the perfect date or soul mate online. Don't get confused with your and you're, or there and their. Google it to make sure! By doing so, you do not only attract local women but also foreign sexy ladies. It's your chance to impress and get your best match, so make your profile awesome!
5. Write an Intriguing Profile
Women also love surprises and are naturally curious about things. Spark a woman's curiosity by writing an intriguing profile. Including popular keywords, like yoga, travel, photography, surfing, learning music, and watching or playing sport, will definitely attract more women or potential matches for you. Avoid words like, 'going out with friends' as your hobby.
6. Give a Great Description of Yourself
Just give a snapshot of yourself in your profile. Tell who you are and the relationship you're seeking in simple, clear, and understandable terms. Describe your positive character traits. Are you loyal? Outgoing? Affectionate? Funny? You can choose at least 3 to 4 adjective words that best describe yourself. You can always ask your family or friends to describe you to get an idea of what people think and what they like most about you.
7. Don't Provide All the Details About Yourself
You don't need to write your whole life story in your profile. Leave a room for initiating a good conversation and to surprises. Also, don't describe your job in detail. Your profile is not a resume and bragging how much you earn, or your company position doesn't do any good. While some women may find these details valuable, most people care less about them. It's best to tell the things you're passionate about, like playing musical instruments, rescuing pets, helping others, or sports.
Describe who you want to date in your profile. But don't sound overly specific. Online dating is entirely different from online shopping, so avoid creating a list of the ideal qualities you want for your future partner. Instead, focus on character that best resonates with like-minded people. Focusing on characteristics may sound rigid, superficial, or overly picky, which are not attractive qualities!
8. Complete Your AdultFriendFinder Profile
A generic and incomplete profile won't say so much about you. Every tiny detail should reflect your real character and personality. Most people looking for serious dates or relationships prefer to initiate communication with members with a complete profile. Sharing a quote or life principle, or anything unique and interesting about you catches women's attention.
9. Don't Rush
Just make sure no nosy neighbor is watching and puzzling while you're signing up for your initial AdultFriendFinder login because pornographic live videos of sexy women are ongoing. The videos are enticing, a great marketing effort, and can prompt you to rush the signup process to see what the site has more to offer. Be discreet with your adultfriendfinder login and we recommend that you don't click save your password and ID. In the unlikely event you are using an internet cafe, then do delete cookies and make sure your AFF login isn't saved for a subsequent user to use your adultfriendfinder login details.
10. Have Fun
Women at AdultFriendFinder know what you're up to and they can be wild but independent and like-minded too. The site provides a lot of contact via sending a wink to show interest, chat, video, or email. Have fun and enjoy because the signup process may only take you 5 to 10 minutes!
Follow the step-by-step guide below to help you create a new AdultFriendFinder.com profile.
Step #1: Enter AdultFriendFinder.com on Your Browser
Once you're on the website of AdultFriendFinder.com, look for 'Not a member yet?' below the login box, and click 'Join Now.'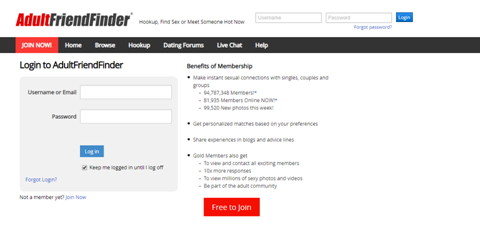 Step #2: Select Your Gender Preference
Select your gender on the dropdown menu of 'I am/We are a' and the gender of the date or the person you're looking for by ticking the checkbox. Group interactions are allowed and the site is open to all types of relationships. It's no wonder why the site reached 1.8 million keyword searches in search engines, like Google.
After your initial AdultFriendFinder Login and whilst creating your account, you'll see live videos of women on their best appealing poses or porn videos. That's why you have to make sure that nobody around or is bothering you when you sign-up. Stay in a private room or private area in your house, condo, or apartment so you'll fully enjoy what the site has to offer without distraction.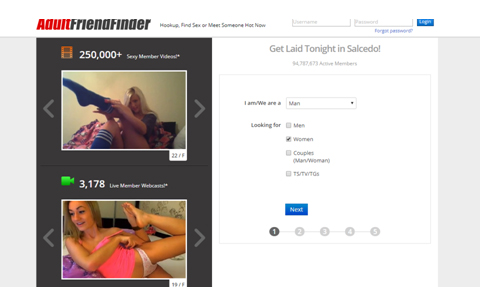 Step #3: Answer Basic Info
Enter your birthdate, country, and province by choosing the appropriate answers on the drop down boxes. If you don't know your zip code, click on 'Find your zip code.' Click 'next' once you're done.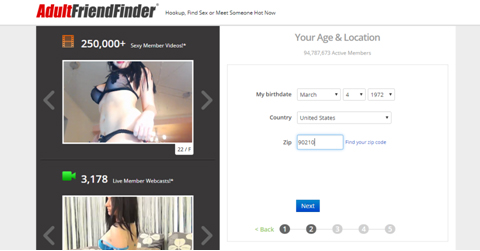 Step #4: Create an Account
Enter a valid email address and create a password. We highly recommend using a separate email address intended for online dating. Don't use your work or personal email to make sure you'll not be overwhelmed with emails from different dating sites.
When creating a password for your AdultFriendFinder login, use 4 to 16 characters without spaces or special characters. Your password shouldn't be the same with your important accounts online. Choose one that's easy to remember but hard to decode, like a sentence with uppercase and lowercase characters, as well as numbers, such as IloveD8ting or My4reverU.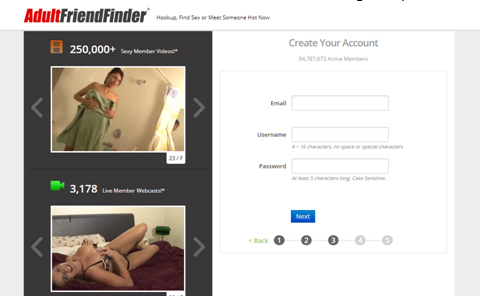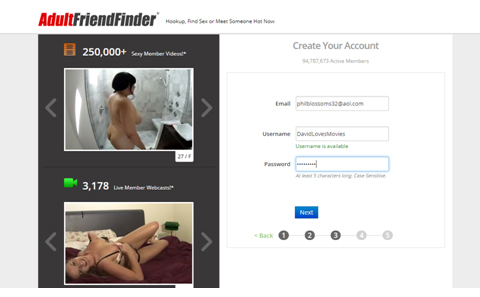 Step #5: More Info About Yourself
In this section, you'll be asked to describe your sexual orientation (prefer not to say, straight, bi-sexual, bi-curious, gay), body type (average, slim/petite, athletic, ample, a little extra padding, BBW/BBM), race (choose from the following: prefer not to say, Black, American Indian, Caucasian, Asian, Hispanic, East Indian, Middle Eastern, Mixed, or Other), and marital status (prefer not to say, single, married, divorced, separated, attached, widow). Choose your appropriate answer by choosing from the dropdown menu. Once finished, click 'Next.'
While most dating sites only allow single men and women to become members, AdultFriendFinder.com is open to almost all types of relationships, so even married people are allowed to find flings or hookups on this dating platform. Also, the site has a massive customer base with varying races and cultural backgrounds.
Don't worry, AdultFriendFinder is not only for sexy or athletic body types, but it's also for all body types. Regardless if you're overweight or too slim, you have a place on this site. You're free to meet and date anyone, interact in any method, share your wildest thoughts and opinions, and take your relationship to the next level if you wish to with a mutual agreement.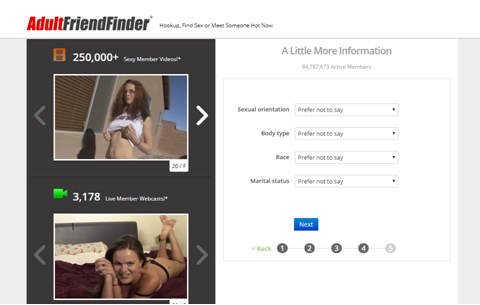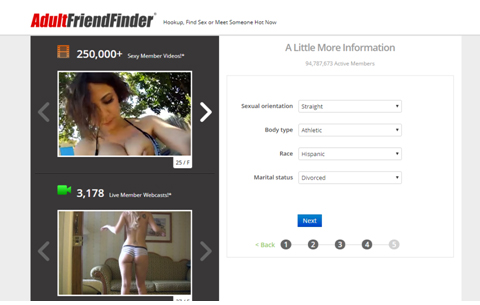 Step #6: Say More Things About You
Highlight what you have to offer in this section. Make your introduction title appealing and exciting. Write a short and sweet description of yourself. You can also get some writing ideas by clicking 'Writing Ideas' in blue font beside the description box. Read the Terms of Use and Privacy Policy. Once you're finished, click 'done.'
Your self-description is your chance to sell yourself or attract women. Whenever you're describing yourself, make it interesting to spark the curiosity of women out there. Make it wild and exotic, but not too bold or boastful. Show your powerful character by stating your best qualities without negativity. You can be funny or crack a joke without insulting or underestimating yourself. Share your passion and interests. Check the sample on the screenshot below to help you write a good dating profile.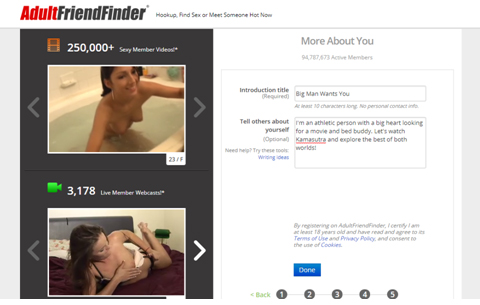 Step #6: Activate Your Account
Congratulations! You have just created your AdultFriendFinder.com account. From AdultFriendFinder Login to creating an eyecatching profile. The next thing you need to do is to activate your account. AdultFriendFinder.com will send you an email activation link to activate and start using your account. Open your email inbox and look for the activation link. If you can't find one, check your spam folder. Make sure you make a note of your AdultFriendFinder login id and password but there is always the password reset option if you forget.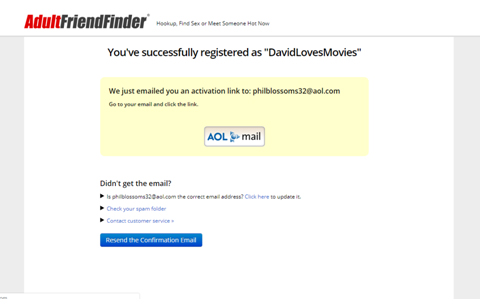 Final Words
It's a lot easier to sign-up or create an account with AdultFriendFinder.com than other dating sites. You'll only take around 5 to 10 minutes to register and start exploring the site. It's easy and fast, so many people are enticed to become members, most especially those who are crazy looking for a casual hookup or no-strings-attached relationships.