My Match.com Review – Some Personal History
I've used a few dating sites in recent years. I'm 56 years old and so it's tempting to try out the 50+ senior dating sites. I've kept myself fit playing golf and other sports and I have been lucky with my genes so I look reasonably young for my age. I want to give myself the chance of meeting someone who might be just under 50 and this age group isn't likely to be on the senior sites.
I'm looking for a serious relationship so I've tried eHarmony before but there weren't many local matches. I don't know if it is just the UK but the site wasn't cheap to join and it was a waste of money due to the limited matches. Perhaps I was a bit too rigid in my dating preferences. It might sound superficial, but I also like to browse through the pictures and eHarmony sends matches rather than allowing members to choose. So, for those reasons, I've settled on using Match.com.
Before that, I tried a free site called plenty of fish or pof.com as its abbreviated. I think a fair number of users on pof are looking for casual relationships or are just not actively looking and that really isn't for me. Only after researching Match.com for this review did I discover the two sites are owned by the same Company, IAC Group. I guess IAC doesn't want pof to have some of the appeal that Match has otherwise everyone would join pof. I see even the free sites usually adopt a part premium model with some paid features such as profile highlighting.
I've never been married and, without wishing to sound too picky, I found that many in my age bracket on pof were divorcees with teenage kids or grandchildren. Apologies for sounding a bit snobbish, but I don't like tattoos and the tattoo count on pof was quite high! I'm easy with personal choice but it's not for me and I have settled on using Match.com for now. The choices on Match just seem a better fit for my preferences, stage in life, and character traits.
Perhaps at my age, I shouldn't be so choosy but I'd rather be by myself than with the wrong person. In all honesty, I think living by myself is probably best as I do have OCD. It's under control and I am a good-humored people person who enjoys chatting and meals out, so dating is a good outlet for me. Also, I don't want to completely rule out that romantic ideal of meeting the right person. In this time of isolation due to the coronavirus issue, online dating also means I can chat with people online.
Anyway, here's my warts and all Match.com review and research. I've tried to cover everything you need to know and maybe a bit more!
Match.com Background and History
Match.com is one of the oldest dating sites, launched in 1993. Since they have been around more than any other dating sites, they have earned a reputation as a trustworthy online dating platform for connecting singles looking for long-term or short-term relationships. Match.com has been a facilitator for thousands of successful marriages and relationships, and even more dates.
Match is a part of the IAC group, together with Tinder, PlentyofFish, Chemistry.com, and some other dating websites. It is available in more than 24 countries and 15 languages.
Match.com has more than 50 million members and has the largest pool of active users. If you are new to online dating, Match.com is a good starting point for the 30 to 60 age range, since there isn't another website where you'll find so many single people. The free dating sites and apps are also wort looking at but I've found the subscription deters those who are not serious in their dating intentions.
The sign up is free, but it takes some time to create the profile. It's not as onerous tough as eHarmony or Elite. I paid for a subscription for the former but just joined Elite to get their free personality profile offer. The multiple questions felt like I was taking an exam but I can understand they need lots of information because they use the answers for their algorithm to create ready matches.
With Match I can choose from the Match search options. I still feel I know better than an algorithm and I like to browse the pictures. It's not as superficial as it sounds as I feel you can tell a lot from a smile or choice of photo.
After creating your Match.com profile you are free to browse through the vast selection of profiles. As everyone will have seen from the numerous advertising campaigns, money is no object for their marketing campaigns. That's not necessarily a bad thing as the brand trust and awareness means the membership base is large.
Given it's the market leader for mainstream subscription dating sites, it's no surprise that Match.com also has a good mobile app that comes 'free' to download with the subscription. Everybody seems to use smart phones for everything nowadays and, as a retired computer programmer, it seems strange to say, but I feel a bit of a tech dinosaur given that I much prefer to browse the site on my laptop rather than use the app. Even before the coronavirus issue I tended to stay in my flat a lot so for people who are more 'on the go' than me a good app is essential. I just find a nice large screen easier on the eye and more relaxing.
Match is allowing its members to express their thought on what exactly they are looking for, so it makes sense to be clear in your profile. So, in my case, I specify I am looking for someone without family ties such as children and grandchildren. It's not that I don't like kids, but since it is a preference it's best I express it rather than waste someone's time. The site also allows members to rate their daily matches, in order to get revised and improved matches. There is a compatibility number on every match sent, and usually, the matches shown are more than 80 percent compatible.
The site is guaranteeing their members with paid memberships that will find the perfect date within 6 months, otherwise, they will give the following 6 months for free. I am four months down the line with my membership and with my OCD and being somewhat fussy I might be taking Match up on this offer.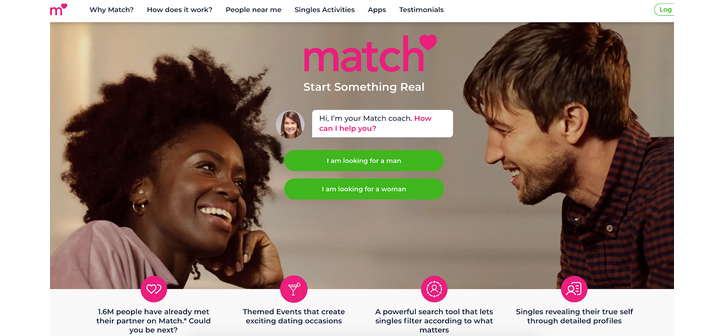 Cost and popularity
A number of members:
Over 50 Million users
First founded:
1993
Most popular membership:
6 Months
Activity:
Around 30 Million users per month worldwide
Average members' age:
25% are under 30
49% are between 30-49
26% are 50+
Gender Proportion (Men to Women):
51% – 49%
Match.com has a massive user-base. Here you can find members of all ages, backgrounds, orientations, etc., and most of the users have a college degree or attended a college at one point.
It is intended for people who are not necessarily desperate for a wedding ring but at the same time are bored with the apps for one-night stands. It also straddles the different age brackets well with plenty of members of all ages. This dating website is a good fit for people who are looking for at least the possibility of a long-term relationship.
As someone in the 50+ dating age bracket, I would feel a bit out of place using one of the apps like Zoosk although I know many 'mature' people do. I just feel these apps are for a younger age group and I don't want to be the 'oldest swinger in town' as the song goes. Although 'swinger' used in the dating context isn't a lifestyle that appeals to me!
Usually, on the members' profiles, there are more than 5 photos as pictures can be imported from Facebook. In the search Match options, I always select the 'must have a photo' options as words alone just don't give me the essence of a person. The absence of any photo also makes me wonder if someone has something to hide. They might be married and claiming single status or even be a scammer.
Perhaps I am being a bit harsh here and the member might just be painfully shy. I can be attracted to shy people but the problem is if I make contact with someone without a photo I will have to request they email me their photo.
If I am not attracted to their appearance I then have to give a reason why I don't want to pursue an initial interest. Yes, it's their fault for not putting up a photo but I still don't want to offend or hurt someone who probably lacks confidence anyway. So, I take the easier option and I filter out when I search Match all profiles without photos.
Prices
Match.com has only one type of membership that is dependent on the monthly duration. The subscription can be acquired through credit card and PayPal. At the end of the commitment period, the membership is auto-renewed at the same rate for the same time period. You can cancel the subscription 14 days before the expiry date, but it will be better if you don't wait till the last day.
The site has stable prices, but like any other dating site, sometimes they change their prices. Sometimes there are better prices and cheaper plans during busy periods such as Valentines' day, new year, the start of the summer, etc. Initially, when I first joined I didn't subscribe as a paid member because I was using pof at the time. I kept getting emails encouraging me to join and after about three months I received one offer that gave me a discounted price and I joined. Here's the current pricing.
| | | |
| --- | --- | --- |
| Membership Length | Price Per Month | Total Cost |
| 1 Month | £29.99 | £29.99 |
| 3 Months | £19.99 | £59.97 |
| 6 Months | £9.99 | 59.94 |
Just as I did initially, you can sign up for free, create a profile, fill out the questionnaire, and browse through the literally thousands of profiles. Free sign-ups can't send messages but they do have the following features available to them:
• Receive potential matches, see the compatibility percent and rate them;
• See the full profiles of the members and their photos;
• Send quizzes and winks;
Members with paid memberships have all these features, plus the following:
• Send Instant Messages;
• Receive and send emails;
• Removing annoying ads;
• Possibility to see who viewed your profile;
• Favourite some members by sending likes and winks;
• See who added you to their Favourite list;
• Boosting your profile, by acquiring some of the addon services.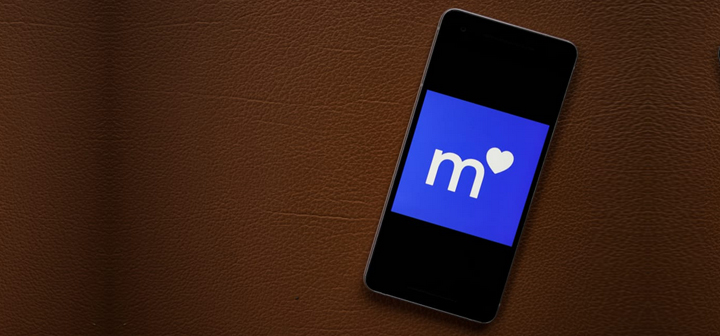 Features
Match gives the opportunity for getting a feel of how it works by allowing the users to sign up for free. I guess it's a marketing ploy because, if you are serious wit your dating intentions, almost inevitably there will be members you would like to contact. Free members can search for potential matches, send winks, but if they want to get in contact with a potential match they need to acquire one of the Match's memberships. With paid membership, members also rank higher in searches, get priority to Match Events, etc.
Advanced Search
Match has an excellent advanced search option. This feature helps the users in narrowing down their searches by using different types of filters, such as height, looks, eye color, weight, hobbies, interests, income, personality, distance, lifestyle, etc.
Also, one of the filters is showing profiles that have photos or when was the last time they logged in and are they online at the moment. Members can also select their best physical attribute and those searching can select those who have opted for eyes, smile or even chest! Some of the other filters are:
Match words – This is an advanced search option that is allowing the users to search profiles using a specific word such as adventurous or music. These features will show you the members that have that specific Match words.
Reverse matches – This filter is allowing the users to see who was looking for them.
Daily mutual matches – Match is sending you a daily list with potential matches, with whom you share the highest compatibility percent according to your match preferences. Match.com algorithms gather information on which profiles you liked or skipped so for the next time it can offer you a better list.
Singled out match – This feature is a part of the daily matches list that provides you with a specific profile that might be the perfect match. This profile is usually the first match on the list since the first profile is the one that is first reviewed. If you review more matches from the daily list, your chances of getting a singled out match are higher.
Highlighting the new users – You can do a search by new users so you can check out their profiles and see whether they can be a good match.
Favorites list
This is a list of all profiles that you liked and want to keep track of them so you can contact them in the future. Once you mark a certain profile as your favorite, they will receive a notification. You can only add up to 100 profiles as your favorites. With a paid membership, you will be also notified of who added you to their favorite list.
WInks
Winks are similar to likes on other social media platforms such as Facebook. They are little actions to show certain members that you are interested in them. When you wink at someone, they will receive a notification and you can't undo the action.
Instant messaging or Emails
If you want to make a contact with a certain member you can send them an email, or use the new Match feature – Instant Messaging. This feature allow the users to send messages within the platform using online chat. This option can be turned off if you prefer to communicate through emails.
Other members can send you a message even if you are not a match with them. After all, they do say opposites attract. There is the option to filter your email inbox and specify the member types that you wish to receive messages from. You can use the filters to receive messages from people within a certain age range or different criteria such as height, location, smoking, ethnicity, and religion.
This option helps the member of not wasting their time in listing the profiles and going through spam messages.
Another messaging feature is the VIP email. You can send one VIP email per week. These emails are highlighted in the inbox of the receiver. I am not I would want to use this feature as it might smack of desperation. If someone likes you they are not really going to decide to reply just because your message has a yellow highlight. I suppose the recipient might be flattered you have gone to the trouble of singling them out with the VIP option and, if they are very popular and receiving lots of messages, it will at least get their attention.
Quiz
Match.com is offering the unique possibility to create your own quiz with up to 20 questions, that can be chosen from a list, or you can create some of them. This quiz is displayed on your profile, so other members can answer it, so you can get an idea of how well you are compatible. You can also ask potential dates to answer the questions on your quiz.
It's a really good way of finding out if you have much in common. Also, I've seen some member's profiles with some really funny and creative questions. It's a much better way of highlighting that someone is interesting or humourous rather than just claiming that trait in their profile.
Match.com Events
Paid members have the opportunity to attend local events that are organized from Match.com. These events are paid and you can bring a friend. These events can be hosted at some local bar or taking a part of some activities like beer tasting, bowling, etc.
Match events are the perfect way to meet people in a low-pressure way since you will be meeting people that have similar interests to yours and otherwise you may never cross your paths on the website. It's not for me though, I prefer to chat with someone on a one to one basis and I think the group meets are more for extroverts.
Spotlight Member
For some period of time, you could agree on being the face of Match.com on their ads. I am not sure of the Match criteria for this but I assume they just pick the most photogenic members rather than randomly select members like the machines that bring up the lottery numbers.
Boosting the Profile
By acquiring "Boosts" at £1.99 per Boost, you have the possibility of increasing your profile visibility, by being included in the top searches or in the section for popular profiles. These boosts last a few hours.
Connect
If you acquire a Connect add-on you will be able to send and receive messages with members that don't have paid membership, as well as notifications on new members, before all other members.
Select
If you acquire a Select add-on, you can see when your messages were seen, set a contact filter- this means that you can set a certain type of members that can contact you, all other members that don't fit the selected criteria, will have to send a request.
Match Phone
This feature is allowing you to have a conversation with other members over the phone without having to reveal your phone number. Match Phone will generate a new phone number that will appear on the screen on the other user. This is a great feature particularly during this period of coronavirus isolation.
Personally, I don't want to be giving out my skype id or 'phone number until a bit of trust and a connection is established. In the good old days of physical meetings then exchanging 'phone numbers, especially a landline, was an important part of checking someone was genuine.
Mobile app
Match. Com has a great mobile app, available on Android and iOS. Even if I don't choose to use it, as a former engineer who does some app development as a retirement hobby, I can see it has a great design and it's easy to use. The app has the same features as its desktop version, plus the addition of a 24-hour story, similar to Instagram and Snapchat, where you can post something interesting that happened to you during the day.
Another interesting feature is called Missed Opportunity or Around Me. This feature using your location will help you in finding potential matches that you crossed your paths or are somewhere close to you. Match tries to cover all bases and competition and with so many local dating apps around it didn't want to be left behind.
Ease of Use
Match.com has a well-designed interface, which is very easy to navigate. Its layout is simple, with having 5 tabs on the top, there is no scrolling, and you are shown only one match at a time. It's just a personal choice but I do prefer accessing the site on a decent sized laptop.
The whole sign up process is very easy and you are guided through the whole signup process one step at a time. First, you need to fill the questionnaire that will take a few minutes to fill out. The questionnaire consists of three parts, where you don't need to write very much but instead you need to tick the choices that represent you the most, and your dating aspirations.
About you – This is the part where you need to add personal details about yourself such as age, body type, height, hair color, hobbies, education, religion, if you are smoking, children, etc.
About your date – This is the part where you need to add information on what you are looking for in your partner. Here you can add the preference of a physical appearance, religion, education, smoking habits, children, etc. All of these choices can be marked as deal-breakers.
In my own words – This is the part where you can write something about yourself and add personalised details on your interests.
You can change the details in your profile at any time, but it will take some time for them to be reviewed and approved by the team of Match.

Safety & Security
Match.com has implemented safety practices, including screening all new members, policing its network, as well as encouraging its members to report any inappropriate behavior and block profiles.
All profiles that are reported, go under thorough investigation, and they might be removed from the website if the Match team finds evidence of fake content or any abusive behaviors and intents.
As additional security, Match has implemented verification badges, that the users will receive if they connect their Match profile with any of their social media accounts ( Facebook, Twitter). This is an optional feature, but it can help the members build their credibility on the platform.
There is a section on the profile where you can find tips and videos on how to protect your finances, spot suspicious behaviors, and safety precautions for in-person dates.
Customer Service and Contact Information
Match.com has a helpful customer service that is available Monday-Friday from 8 am to 5 pm. They are also very responsive on their social media accounts, Facebook and Twitter. As an additional help, they have an extensive database of useful information and loads of FAQs.
Just be careful with the auto-renew for membership and my suggestion is to untick the default auto-renew as soon as you join. You'll still get the full period of membership you have paid for and Match isn't reticent on sending reminders close to the expiry date in case you do want to extend.
Pros and Cons
Pros
• Very large and diverse membership base active in 25 countries;
• Daily matches list according to your match preferences;
• Multiple advanced search options;
• WInking and adding to the favorite list as a way of showing interest;
• 6-month guarantee that you will find your special one, otherwise you will receive the following 6 months for free;
• Match events;
• Millions of successful stories;
Cons
• You have to be paid member to send and receive messages, and see who has viewed your profile;
• It can take a lot of time searching through the vast selection of profiles;
• You can't see who is a paid member, so you might send a message to members who can't respond to your messages;
• The approval of the accounts can take some time.
Main Competitors
Match.com
eHarmony
✔ £9.99 for 6 Month subscription
✔ Over 50 Million members worldwide;
✔ Great advanced search filters;
✔ Great app with "Near me" option;

? Not so focused on long-term relationships;
? Time-consuming to search through the profiles.

✔ £19.95 for 6 Month subscription
✔ Over 4 Million members in UK;
✔ Aimed for people looking to get married;
✔ It's weeding out all of the mis-matches for you

? More expensive;
? More restrictive when it comes to seeing the profiles on the platform
In Conclusion
Match.com has been around for more than two decades in the online dating world. Since their beginning, they have perfected their matching algorithm, features, and security tools.
The dating website has very useful features, especially their advanced search filters, which have a simple layout that is easy to navigate. Through their security tools, the number of fake profiles is very low. I've used pof, eharmony, and Match.
They all have their upsides and downsides but Match provides me with more suitable matches than pof and gives greater searching flexibility and far more local dates than eharmony. I am also tempted to try Ourtime as it targets my 50+ age group but I'll stick with Match for now. After all, I can take up their 6-month free extension offer if I don't find someone within the remaining two months of my membership.
Reader review: RJ
Location: Somerset, UK
Occupation: Retired engineer